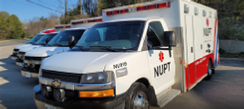 preferred transport providers

Patient transfer safety is of the utmost concern. Currently this industry is self-regulated. A patient transfer company can state that they have high standards but what company wouldn't?

If an industry is self-regulated who are they accountable to?
Currently there is no government department that manages the safety and care of non emergency patient transfers in Ontario. This needs to be addressed by an Ontario governing legislative body. The Ontario ombudsman is involved, but in my opinion this is very slow process. It may take many years if ever to get the Ontario government to set enforceable standards.
Investigative journalist Tina Pittaway has great blog on this industry. This really opened my eyes on this "risky business" that most people are unaware of.
What is the level of trained staff?
The qualification for most patient transfer companies is an Advanced Medical First Response Course and a driver's licence. Now that sounds reassuring, but it is far from a qualified paramedic. These positions are typically filled by young adults or students and are paid slightly better than minimum wage. This service is to be used for non emergency (stable) conditions. Do NOT expect anything else.

Do they have the necessary equipment required to handle the patient transfer?
Just about anyone with a vehicle can call themselves a "patient transfer company". It's imperative that you inform the transfer company of any relevant medical condition and that they can supply the necessary equipment to make the journey safe and comfortable.

What is the condition of the vehicles?
There have been reports of issues with cleanliness and how road worthy the vehicles are. Some companies state how often they maintain their vehicles.

What is the overall history of customer satisfaction?
Word of mouth helps but if you don't know anyone that has used this service how do you decide? We base our referrals on customer feedback. Follow up with the customer and the patient transfer company is conducted on a regular basis.
More information on Price