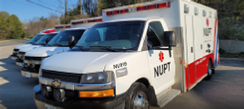 preferred transport providers
PatientTransferOntario.ca was established since 2012 helping individuals source patient transfer service in Ontario.
We are an Ontario patient transfer network that connects people who require non emergency medical transportation to the companies that supply the service in various locations in Ontario. There is NO CHARGE* to use the services of patienttransferontario.ca.
Only well established professional companies with a proven history of customer satisfaction are associated with patienttransferontario.ca.
NOT ALL ONTARIO PATIENT TRANSFER COMPANIES HAVE THE SAME STANDARDS.
Patient safety, equipment, type of services provided and history of customer satisfaction should be a priority.
What do we offer?
From the information you supply us with, we select the appropriate patient transfer company for your individual requirements. A preferred patient transfer company representative will then contact you with a no obligation quote. It is then up to yourself to ask any other questions or concerns and confirm the patient transfer with them directly.
We appreciate any feedback regarding your transfer as this helps us evaluate future recommendations. This ensures customer satisfaction.
Please read our Terms and Conditions regarding further information.
* This does not include any charges between the client and the patient transfer company.



Only the BEST Ontario patient transfer company should get your business.
Why accept anything less?